This Cop Was Celebrating His Birthday, But Olive Garden Was Telling Him To GET OUT…
There's no denying that first responders often find themselves working weekends, holidays, and even their own birthdays. They understand it's part of their job, and their families are supportive of the sacrifices they make. It's not unusual for police officers to grab a meal while on duty and in uniform. Even during their break, they're required to carry their firearms in case of an emergency.
This is what happened to Kansas City Police Officer Michael Holsworth when he decided to meet his family at a local Olive Garden on his lunch break to celebrate his birthday. While waiting for his family at the front of the restaurant, an employee approached him and said, "Sir, we don't allow guns in here," as reported by Holsworth.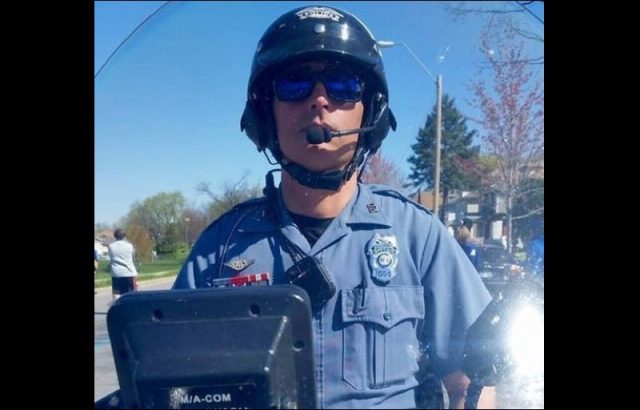 At the time, Holsworth was in full police uniform and on duty.
"I actually thought it was a joke at first, so I asked her, 'Are you serious?'" he remembered. "She replied back with 'Yes.' So I told her, 'Well, I can leave I guess.' She then replied back, 'Yes, please leave.'"
Officer Holsworth was understandably upset by this treatment and shared his experience on social media. His Facebook post quickly went viral, amassing over 12,000 shares.
"I never in my wildest thoughts thought this would happen in the Kansas City area," he expressed. "I see it happening all over the United States to other officers but never thought it would happen to me."
The community came together to support Officer Holsworth and his family, putting Olive Garden in a difficult public relations situation. The company promptly addressed the issue, with its president personally apologizing to Officer Holsworth.
"Olive Garden loves serving law enforcement, and the incident was a misunderstanding," the company explained in a statement.
However, some remained skeptical of Olive Garden's explanation. David Griffith, a reporter for Police Officer's Magazine, suggested that the incident was a political statement by the restaurant's employee. Brad Lemon, president of the Fraternal Order of Police, also commented, asserting that it's not okay to treat law enforcement poorly.
Officer Holsworth shared his final thoughts on the situation.
"My experience today at Olive Garden was extremely unfortunate," he wrote. "I never believed I would be asked to leave a public restaurant because I was in full police uniform which requires me to carry my duty weapon. It is my hope that Olive Garden handles this situation appropriately so no other officer has the same experience I had today."
Officer Holsworth's anger was justified. He never expected to make headlines on his birthday, but he encountered the blatant disregard of a local business he is committed to protect and serve. His primary concern was to ensure that other law enforcement officers wouldn't have to endure the same humiliation.
WATCH the video below for more details: