Muslim DNC Chair Candidate FURIOUS! TRUMP STOLE OUR MESSAGE
Of all the marches and protests the radical left has organized since Election Day, the race to see who will lead the Democratic Party in the early stages of Donald Trump's presidency has put the most emphasis on the obvious divisions that are still lingering within its ranks.
Elections are quickly approaching, where 447 DNC members will vote to appoint their party's next chairman. The event happens this Saturday in Atlanta Georgia. (Lord help us all…)
Former Obama Labor Secretary Tom Perez; Rep. Keith Ellison (D-MN); South Bend, Indiana Mayor Pete Buttigieg; Chairman of the South Carolina Democratic Party Jaime Harrison; Executive Director of the Idaho Democratic Party Sally Boynton Brown; former "Rock the Vote" President Jehmu Greene; U.S. Air Force Veteran Sam Ronan; and attorney Peter Peckarsky, were among the candidates debating. The event was moderated by CNN's Dana Bash and Chris Cuomo.
There wasn't a whole lot these candidates had in common however, they all agreed on one thing: The opposition of President Donald Trump.
A lot of the debate we can go without talking about since it was babble about their plan to take down Trump and yada yada. But one thing was evident, and that was the insane hypocrisy of the entire thing.
Let me explain…
Among some of the bizarre rants among the candidates, there was one that really grabbed the attention of listeners. That was a comment made by Rep. Keith Ellison.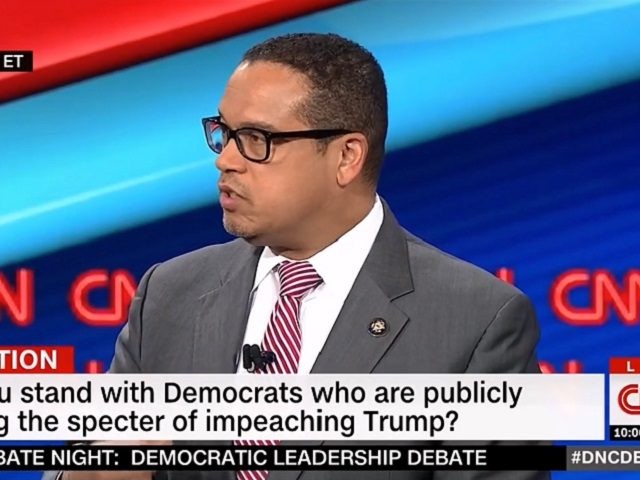 First, Ellison stated:
"Trump has done a number of things which legitimately raise the question of impeachment."
Rather than praising the President for having similar political goals, he instead went on to accuse Trump of 'stealing the Democrats' message.'
"Trump did say he was for jobs, trade, infrastructure and protecting social security. That's our message. That's what we do. That's why he beat all those other Republicans; because he stole a Democratic message."
Huh?
It didn't stop there.
Ellison, who has been hounded for being 'anti semitic' for his past ties with the Nation of Islam and his undeniably sick statements on Israel, claimed Trump is to blame for not immediately jumping to the condemnation of antisemitism.
"These are false allegations," Ellison said of being called an antisemite. "I have 300 rabbis and Jewish community leaders who have signed a letter supporting me," he said. "I have strong support from the Jewish community."
Doesn't it all seem a little hypocritical? Did he steal your message or are you upset that he actually began doing what he said he would do on the campaign trail that earned him the votes to win the election because 50 plus years of inaction makes your message hollow?
Yeah, that too.