New Jan 6 Footage Has Been LEAKED, And Boy Do We Have Questions!
If you think you've already seen all the videos concerning the Jan 6th incident, well, that's what the left-wing mainstream media wants you to believe.
Yes, all narratives coming out from the mainstream media are all filtered and pointing all the blame to the patriots doing some peaceful protests.
And now, a recent video emerged from the Jan 6th protests, wherein a man named Ray Epps now become the center of the mystery, and many suspects is a "federal informant" of some sort.
Many people have raised a lot of questions about Mr. Epps's "real role" at the event because, despite his appearance at nearly every "hot spot" at the Capitol, he's never been arrested.
But why?
Well, Revolver.news did several comprehensive pieces on that.
And now, more controversial footage was released of Mr. Epps actually helping the crowd to lift a giant "Trump" sign and use it to PUSH against Capitol Police.
Remember, all people who were there were arrested because Dems considered it as an "attack" against Capitol Police officers.
Yes, people were arrested for this… But guess who wasn't arrested? Yep, Mr. Epps. 
But thanks to new footage shared by an independent journalist Stephen Horn on his Twitter page wherein it gives us a better understanding of Mr. Epps' role in the Jan 6th incident.
Then Horn followed up with some very good questions about Mr. Epps and his reasons for being there in January. 6th.
You can watch the video below:
As @FreeStateWill reported in December, Ray Epps was one of the members of the crowd who helped lift up a large Trump sign and push it into the line of police officers on the West Side of the Capitol around 1:40 pm

(original video by Just Another Channel and Savanah Hernandez) pic.twitter.com/T0jE9rZksw

— Stephen Horn (@stephenehorn) March 30, 2022
According to Horn at least two others who took part in lifting the sign were charged with felony assault with a dangerous weapon for this act (18 U.S.C. § 111(a)(1), and (b)): Marshall Neefe and Sean Michael McHugh.
The criminal complaint for McHugh contains a screenshot from the JAC video.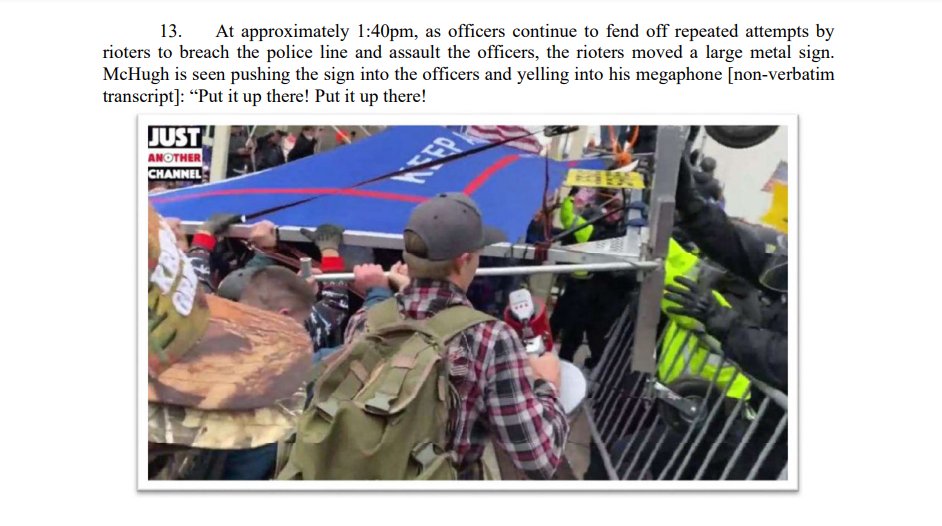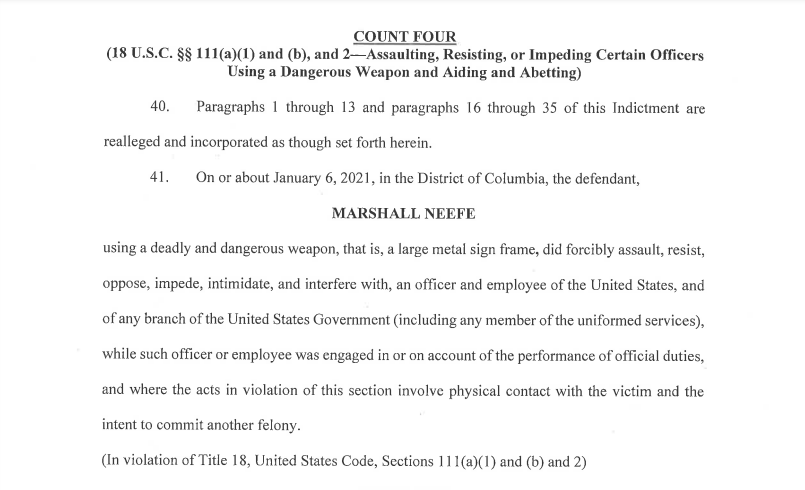 Wayne Dupree further commented:
Mr. Horn rightfully wonders if it's a felony for Neefe and McHugh to help push the sign into the police line, shouldn't it be a felony for Epps as well?

You'd think so, wouldn't you? 

Furthermore, Mr. Horn points out that from a different angle, Mr. Epps can actually be seen grabbing the sign and gesturing with his finger toward the police.

Additionally, Epps can be seen grabbing the sign and gesturing in another angle of video from behind pic.twitter.com/VoBCQqmqYx

— Stephen Horn (@stephenehorn) March 30, 2022

So, why hasn't this man been arrested?

As I said earlier, Mr. Epps was spotted at nearly every single "hot spot" that day and was even among the first to lead the charge to enter the Capitol, but he's walking around free, while people who appear to have done MUCH LESS, are rotting in prison.

When the GOP takes over the House and Senate (God willing), one of the first things they must do is investigate January 6th.

And their first witness should be Ray Epps, and the second witness should be Nancy Pelosi.

I believe both of these ghouls are key to what "really" happened on that day.
Sources: WayneDupree, Revolver.news