This Social Media Star DIED After A Butt Surgery Went HORRIBLY Wrong…
In a heartbreaking turn of events, Joselyn Cano, a 29-year-old Instagram model striving for a physique similar to Kim Kardashian's, lost her life due to an alleged "botched" butt surgery.
Cano, a renowned Instagram influencer and swimwear designer, met her tragic end following an unsuccessful operation. While her family initially did not confirm the devastating news, fans learned about her passing when Akes Family Funeral Home in Riverside, California, an hour from Newport Beach where Cano lived, uploaded her funeral on YouTube, as reported by the NY Post.
The funeral video displayed Joselyn Cano's grieving relatives paying their respects and mourning the untimely loss of the young star, whose body lay in a casket accompanied by a large portrait of her.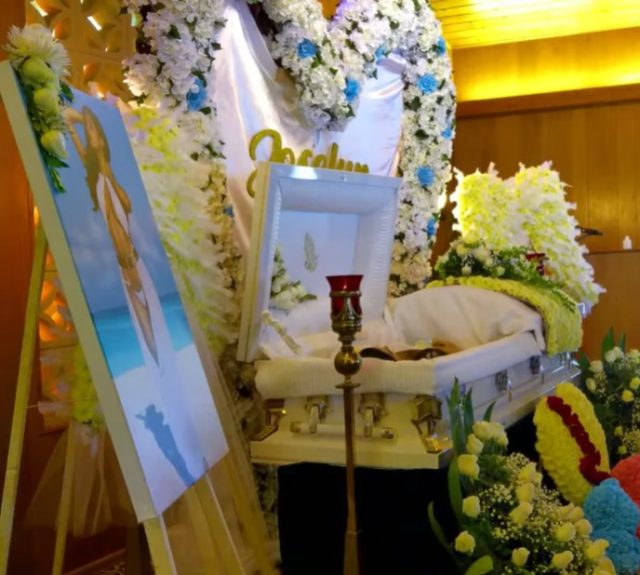 Cano's LinkedIn profile reveals that she studied microbiology at San Diego State University before achieving success as a social media influencer and model. At the time of her death, she had a flourishing swimwear line, "Joselyn Cano Swimwear," and an impressive following of almost 13 million fans on Instagram, according to The Sun.
The news of Cano's demise sent shockwaves across social media, leaving fellow influencers and models stunned. Lira Mercer, another model, tweeted about the tragedy: "Omg Joselyn Cano died in Colombia getting surgery, that's wild." She continued, "She looked so good already wow prayers for her family she was so sweet."
Cano, already known as the "Mexican Kim Kardashian," reportedly traveled to Colombia shortly before her passing. While there, she allegedly underwent a Brazilian butt lift (BBL) – a plastic surgery procedure that involves extracting excess fat from one part of the body and injecting it into the buttocks to achieve a fuller derriere.
Despite being one of the fastest-growing cosmetic procedures in the US, the Brazilian butt lift has been deemed "the world's most dangerous cosmetic procedure," with a mortality rate of 1 in 3,000, as stated by The Guardian. Tragically, some women are willing to take this gamble in their quest for the perfect peach-shaped bottom, emulating celebrities like Kim Kardashian, Jennifer Lopez, and Nicki Minaj.
Death following a BBL typically occurs when the injected fat enters the bloodstream and obstructs blood vessels after surgeons inadvertently inject fat too deep into the patient's glutes, penetrating the muscle and potentially causing a fatal pulmonary embolism. The New York Times reports that it is the most perilous cosmetic procedure with the highest mortality rate of any plastic surgery.
Despite the risks, many women remain undeterred. From 2000 to 2015, there was a staggering 252% increase in BBL procedures, according to the American Society of Plastic Surgeons. This surge in popularity, combined with the high mortality rate, has raised concerns for years.
In 2018, The British Association of Aesthetic and Plastic Surgery urged UK surgeons to cease performing the procedure altogether. However, as the NYT reported, this did not deter women from traveling to Turkey or South America for cheaper surgeries.
In response to the rising number of deaths associated with the procedure in 2022, the Florida Board of Medicine implemented changes, as reported by NBC 6. One preventative measure is using an ultrasound machine during BBL surgeries, prompting the board to approve an emergency order mandating its use.
Unfortunately, women often travel outside the US for more affordable procedures, where such safety guidelines may not be in place. Consequently, some expressed a lack of sympathy for Joselyn Cano. One critic wrote on social media, "Her own fault. This false ideal of beauty will cost also the lives of many others. And seriously… that looks like sh*t."
Regardless of individual opinions on the appearance of a Brazilian butt lift, the fact remains that the procedure is fraught with risk. Those considering such surgery must be well-informed about the dangers involved. Is the pursuit of a larger backside truly worth risking one's life?
Perhaps embracing the results achievable through diet and exercise would be a healthier, safer, and more sensible option. If that's not enough, it's crucial to ensure that the chosen surgeon is board-certified and adheres to the safest methods available. Often, cheaper does not equate to better.
The devastating loss of Joselyn Cano is a stark reminder of the perils associated with cosmetic procedures, particularly when performed in countries with potentially lax safety regulations. Her tragic story highlights the importance of thoroughly researching and understanding the risks involved before embarking on any surgical procedure, and it also raises questions about society's beauty standards and the pressure placed on women to achieve an idealized appearance.
As we mourn the untimely passing of Joselyn Cano, let her story serve as a cautionary tale for those seeking cosmetic enhancements. May her experience encourage individuals to prioritize their health and well-being above all else and to remember that true beauty lies in embracing and celebrating our unique qualities.
WATCH the video below for more details:
Sources: Taphaps, The Sun, The Guardian, New York Times